UPDATE 19/03/2020
With Coronavirus (COVID-19) dominating the news and given that we now know more about what the weeks and months ahead could look like for our industry, we felt it appropriate to update you on the actions we are currently taking.  
Firstly, our main priority is the health, safety and well-being of our employees, customers, suppliers and their families.
We are promoting stringent levels of hygiene across our business, keeping abreast of all breaking news and adhering to Government guidelines.  We have advised all of our external sales managers to avoid non-essential face-to-face contact and to conduct as many meetings as possible via telephone/FaceTime/Skype. We are also looking at ways to enable our admin staff to work from home to help support the benefits of social distancing.  
During this time, all members of our team will remain contactable on their usual phone numbers and email addresses.  
Thankfully, our capacity to supply materials is currently unaffected by the COVID-19 outbreak. We are continuing to take orders and make deliveries, with NEXT DAY SERVICE still available on our products. Having expanded our warehousing capacity considerably just recently, we are exceptionally well-positioned, with a vast amount of stock on the ground to meet increasing demands. We do not anticipate any supply issues at this time – however, we will update you if this situation changes.  
This is likely to be a challenging time in the UK construction industry, yet we will look to support you to the best of our ability and keep you abreast of any changes as and when they occur.  
THE TEKCEM TEAM
Here at Tekfloor, we believe in giving our team a well-deserved break over the Christmas period. 
So we'll be closing our doors on Tuesday 24th December 2019 and reopening again on Thursday 2nd January 2020.
On behalf of the management and staff here at Tekfloor we'd like to take this opportunity to wish all of our terrific customers and suppliers a very Merry Christmas and Happy New Year as we look forward to a new decade in 2020.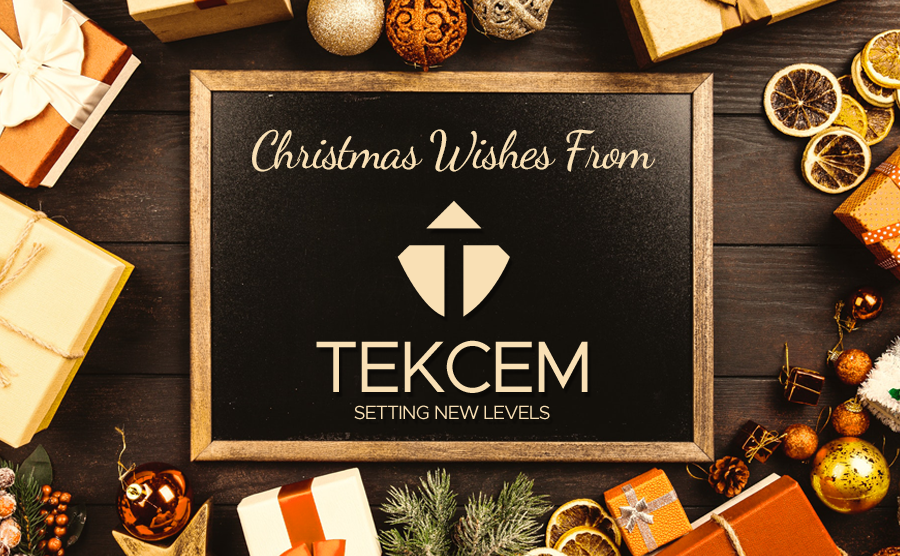 Check out our latest piece of literature – view it online, or download it!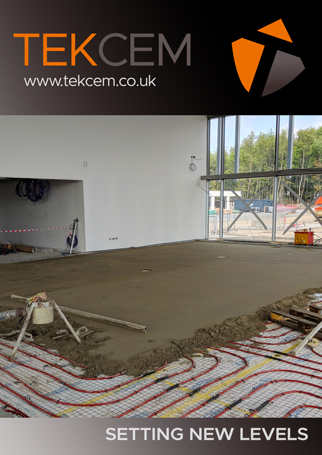 Due to increasing customer demand, we've recently put together a nifty little flipbook containing all of the product datasheets in the current TEKCEM range.
The datasheets contain valuable information pertaining to each product, including intended usage, technical data, coverage rates and mixing/application guidelines.
If there are any that you think we've missed, head on over to our Facebook page and drop us a message!

This month sees the introduction of our slightly tweaked corporate branding.
Whilst we've held on to the shield design, we've changed the spot colour from blue to orange, in line with that of our parent company Tekfloor Limited.
Whilst we still have stocks of products printed with the old blue logo, these will be phased out over time. You'll also start to see the new logo appear on our stationery, literature, vans and signage very soon.
Joint Managing Director, Steve Foster said "This is an exciting change for us. The tweak to our brand is just a small part of our company's ongoing strategy to evolve our business and create firm foundations for new opportunities.
"Rebrands are traditionally undertaken by companies who are looking to reinvent themselves, but we are keen that our new identity continues to reflect our company ethos; manufacturing and supplying quality products, offering fair pricing and top class customer care.
"There is incredible potential for our company to grow, and our new branding positions us for those opportunities."
    (old logo design)
–  drivers wanted  –  driving jobs  –  cambridgeshire  –  huntingdon  –  truck driver  –  tramper  –  class 1 artic driver  –  class 2 rigid driver  –  vacancies  –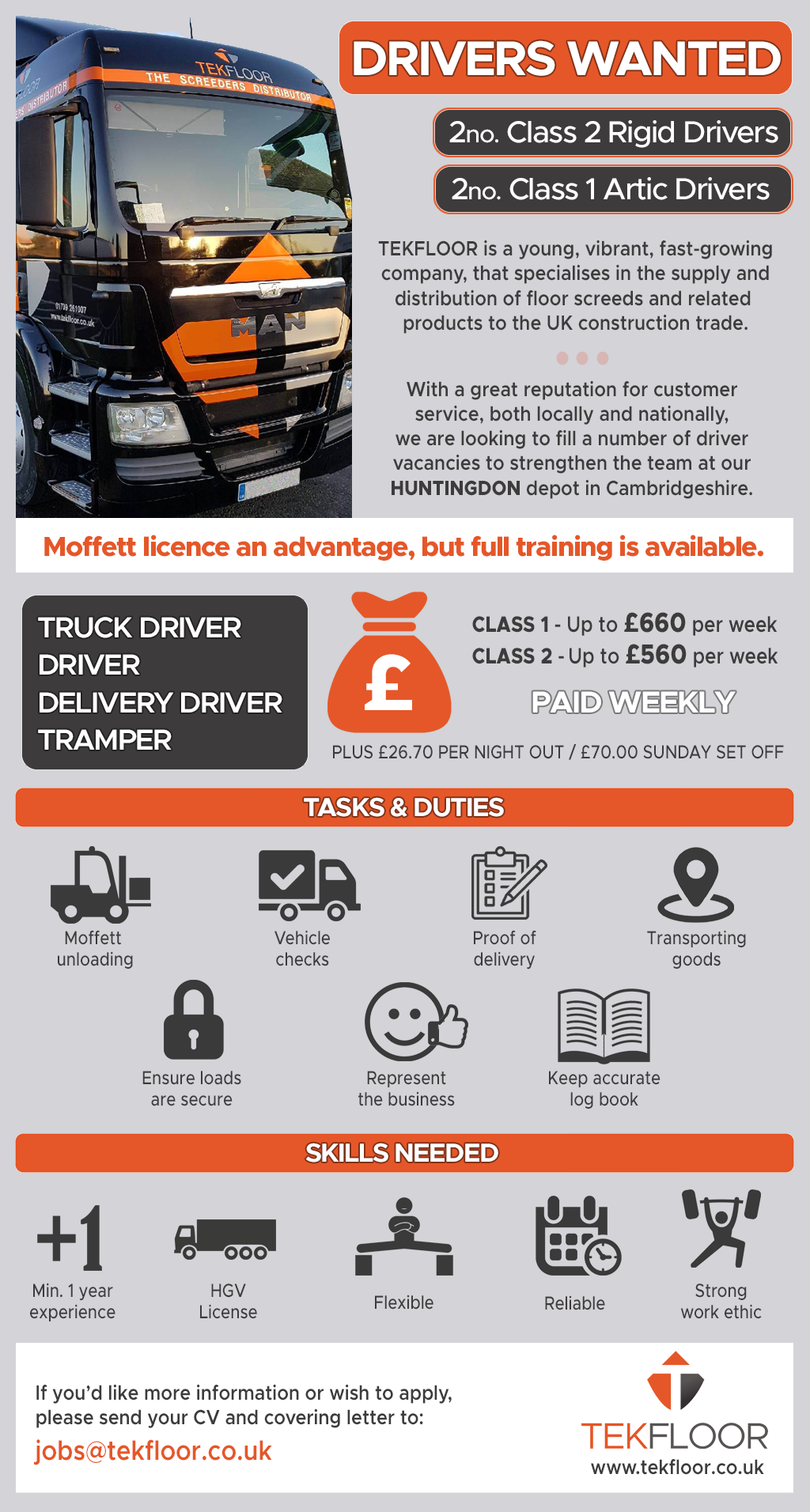 class 1 drivers wanted – class 2 drivers wanted
Tekcem is an exciting new brand of floor screeds and related products. It consists of over 30 products including cement replacement screeds, commercial levelling screeds, gypsum screeds, dispersion primers, DPMs, bonding agents, crack repair products, acoustic foams and many more. It is solely distributed by Tekfloor Ltd.
We are looking to strengthen our team by recruiting an experienced Technical Sales Manager, who will quickly become the national brand champion, responsible for the entire P&L a/c of the Tekcem range. Your time will be spent:
consultative selling with existing clients to enhance customer spend;
identifying and targeting new prospects & markets and converting to ongoing business;
attending client site meeting and providing on-site support;
demonstrating the performance of the range by installing test areas;
giving technical support and advice to the rest of the sales team
You will probably be a Technical Sales Manager for a manufacturer of specialist flooring products such as screeds, resins, adhesives, levelling compounds etc, looking for an exciting progression to your career. You will be technically competent, with experience in increasing sales through solving clients' problems. Above all you are passionate and have a track record of exceeding expectations.
We are looking for a proactive individual who can build relationships with customers, contractors, specifiers and colleagues. You will be a self-starter who can grow an existing client base.
This is nationwide role with customers all over Great Britain. The company offices are situated in Yorkshire and Cambridgeshire. We are offering a competitive salary and benefits package including:
FX vehicle
Uncapped bonus
Private health insurance
Life insurance
Pension
Our core values:
Make it happen
Exceed expectations
Be honest
Give a $h!t
Have fun
Please visit our Careers page to apply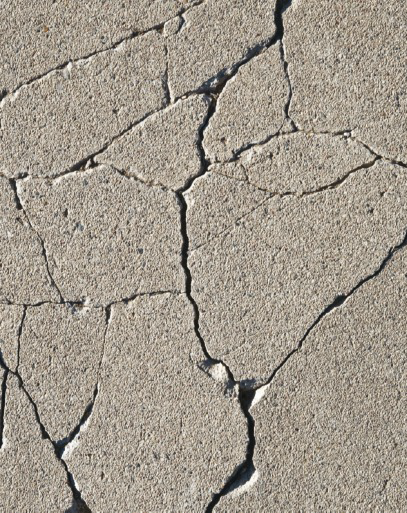 We are pleased to announce that our Screedfix product is now odourless. Screedfix is an ideal product for fixing cracked screeds, quickly and effectively.
"We are thrilled to be able to finally launch our odourless Screedfix product, it is the only product out there that offers this in the market place" says Managing Director, Andy Vincent.
Tekcem Screedfix is now a styrene free and odourless product which is designed to repair shrinkage and other cracks in screeds, concrete and masonry.  It can be applied using a standard sealant gun and the mixing is carried out automatically by the action of the cartridge and its EASY-FLOW mixing nozzle. Developed by Tekcem's research and development laboratories, Screedfix is a rapid curing and high strength product.
Tekcem have been producing screeding products since 2013 and forms part of the Tekfloor Group which distributes screeding products nationwide, offering the full package of choice for its clients.

We are pleased to announce the appointment of Paul Oakley in the position of Technical Manager. The appointment of a Technical Manager expands our experience and internal resources, and enhances our technical support capability to our customers.
Having begun his career as a laboratory technician whilst studying for a degree in chemistry, Paul has over 15 years of experience in construction related industries. Speaking of his new role Paul said "Tekfloor are committed to growth and expansion and having already achieved significant success, it is important that we don't get complacent and recognise that we must continually improve to meet the needs of our customers. The future potential of Tekfloor made it a very interesting proposition. I am excited to get started and help continue to grow the company and improve the service to our customers!"
Andy Vincent, Managing Director commented, "We are delighted to welcome Paul to Tekfloor. Paul's strong commercial and technical expertise will complement our current skill set especially as we continue to expand our service offering and improve our customer service. We see this as another step to becoming the best source of products, advice and expertise"
We are excited to announce our newly designed website at www.www.tekcem.co.uk. Our new website has a user-friendly navigation and search functionality for our customers.
The website contains updated information about Tekcem products and accessories. One of our main goals is to provide our customers with the information required on our products with a user-friendly and simple to navigate website.  We hope that you enjoy browsing our new site and find the information required for your future projects!
While you get to know our new website – below are some links you may find useful:
PRODUCTS
Tekcem Plus
Tekscreed
Screedfix
025 Industrial
CASE STUDY

New Kings School – Tekcem Plus
NEWS & VIEWS
We look forward to using our news & views area to provide you with even more information regarding our latest products, industry news and screeding tips on how to get the best out of the Tekcem product range.
For technical questions, contact us at [email protected]